In addition to running on Microsoft Internet Explorer for PCs, Office Timesheets is also designed to run on Firefox browsers for Macintosh and Windows. This powerful ability is a timesheet software industry first, and provides a beneficial environment for organizations that implement Mac in either some or all of their departments.

The Office Timesheets Server components are developed using the latest Microsoft development tools and thus requires Microsoft Windows-based hardware in which to operate (for users who choose to self-install Office Timesheets). However, the Office Timesheets client can run on either Microsoft Internet Explorer or Firefox browsers, regardless of which version of Office Timesheets you choose to run. Firefox web browser compatibility allows the Office Timesheets client to run on a variety of computer operating system platforms, including both Windows and Apple Macintosh.

The most unique aspect about this Office Timesheets feature is that because the Office Timesheets' client interface is built using Microsoft's ASP .NET AJAX, the interface looks and functions the same for both browsers. This translates into fast implementation and performance regardless of the platform, and cuts down on employee training time.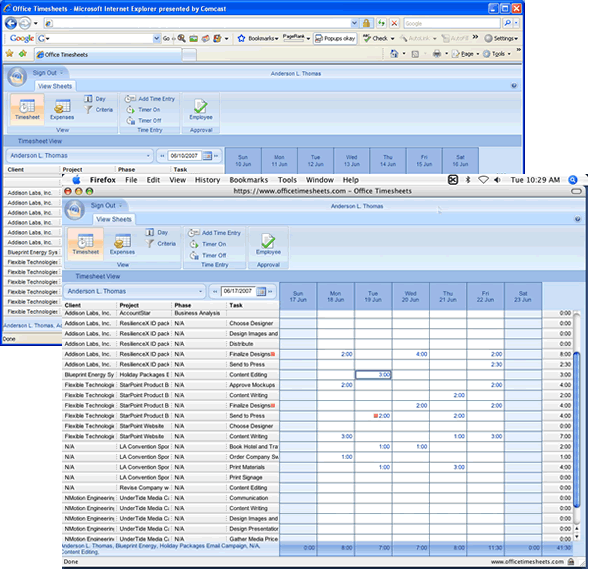 Office Timesheets has a diverse base of customers ranging from small and medium size enterprises (SMEs) to Fortune 500 companies with installations in every major continent throughout the world.
HAVE QUESTIONS? CALL US TOLL FREE 866.425.0800 OR DIRECT AT 214.239.1985