Timesheet reporting overview
Office Timesheets includes comprehensive reporting capabilities by utilizing three powerful reporting engines: Transaction Detail Reports, Summary Reports and Detail Reports. With Office Timesheets reports you can:
Analyze costs at numerous levels such as employee, client, project, sub-task, phase, etc.
Generate invoices and detailed billing analysis
Generate detailed audit trail reports for regulatory compliance
Analyze project budget to cost performance
Estimate the cost of future projects/jobs by viewing historical time and expense data
Create internal charge back invoices by cost centers
View detailed employee utilization analysis
And much more…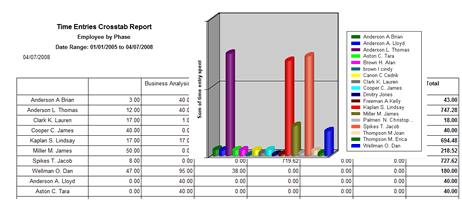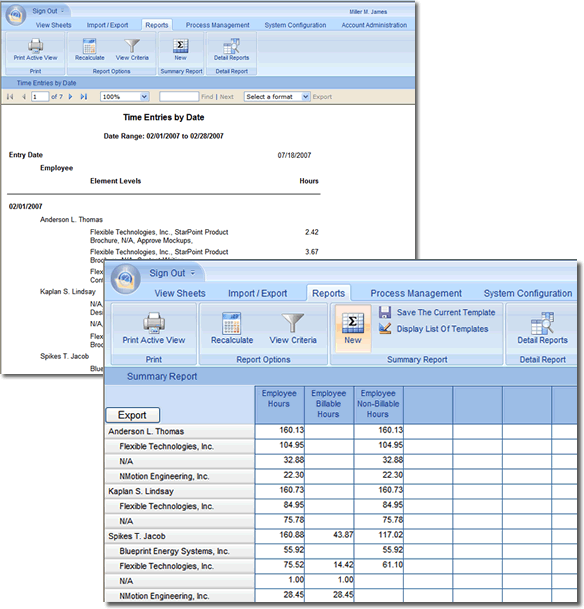 Transaction Detail Reports
Transaction Detail Reports is a new reporting tool in Office Timesheets that lets you pull task, time entry and expense entry transactions into interactive grid. Once tasks, time entries or expense transactions are loaded into the grid, users can sort columns in ascending or descending order and/or group data by one or more selected columns.
Types of reports you can create using Office Timesheets Summary Reports:
Custom task, time and expense detail lists: Create customized detail task, time entry and expense entry lists showing practically any field you wish to see and in the order in which you wish to see them.
Customize the transaction detail report criteria: Select specific element items to view in the report, as well as task and entry statuses associated with the element items.
Save as templates: Save any transaction detail report you create as a template for future use.
Rename columns: Use your own terminology by renaming column headings.
Group and sort columns: Group and sort columns to fit your preference.
Export to spreadsheet: Export any detail transaction report to a spreadsheet.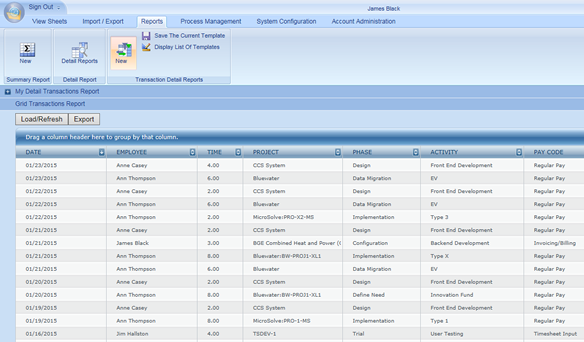 Summary (Columnar) Reports
Generate practically any type of columnar report you imagine using the Office Timesheets Summary Reports engine. Using spreadsheet-style columns to display time and expense related data, Office Timesheets Summary Reports are fast and easy to create, but also offer powerful calculation and filtering options. All reports you create within the Office Timesheets Summary Reports writer can be saved as templates and re-used anytime. You can even further extend the power of Office Timesheets Summary Reports by exporting them to Microsoft Excel for further manipulation.
Types of reports you can create using Office Timesheets Summary Reports:
Rates x Hours (Using 5 Employee Rate tables and Task Rates)
Budget vs. Actual
Calculate Overhead Costs
Utilization by Employee/Employee Group, Project, Client, etc.
Billable vs. Non-Billable Hours
Cost by project, client, sub-task, cost center, etc.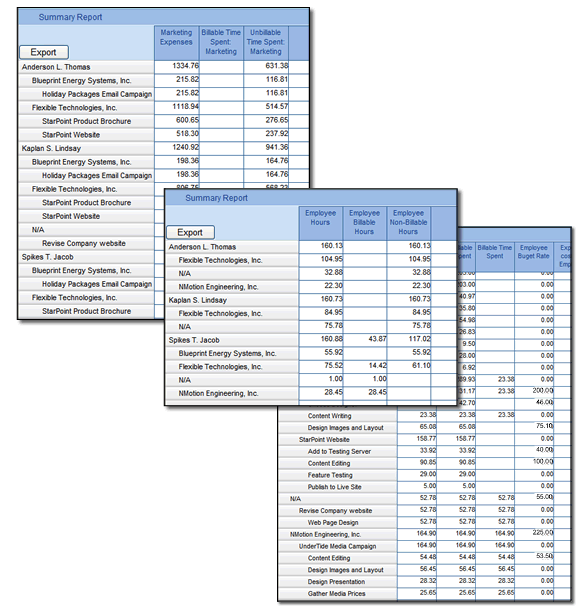 In summary, Office Timesheets Summary Reports offer near limitless time and expense data analysis in an easy-to-use and familiar spreadsheet-style interface.
Detail Reports
Office Timesheets Detail Reports engine utilizes Microsoft Reporting Services viewer, and currently includes more than 20 pre-defined reports.
Features offered by Office Timesheets Detail Reports include:
Custom Reports with unlimited design capabilities
Save as PDF for easy distribution via website uploads, email, etc.
Create customized invoices
Save as template for easy recall
Built-in filtering by Task and/or Entry Status (billable, complete, overtime, shift-differential) by Element Item/Element Group, by Employee or Employee Group, and much more…
Unlimited reporting possibilities
Many graphical capabilities (images, charts, text color, highlighting, etc.)
Will continue to add useful report templates
Will provide custom report service in near future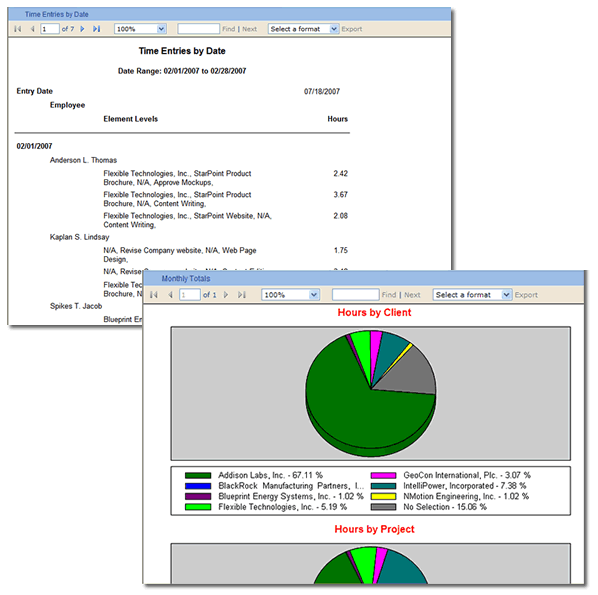 Office Timesheets has a diverse base of customers ranging from small and medium size enterprises (SMEs) to Fortune 500 companies with installations in every major continent throughout the world.
HAVE QUESTIONS? CALL US TOLL FREE 866.425.0800 OR DIRECT AT 214.239.1985