Professional grade employee time tracking for QuickBooks
NOTE: If you wish to you implement QuickBooks integration with your Office Timesheets installation or On Demand Account database please download the QuickBooks Integration Guide for instructions on how to install the QBLink application, configure synchronization preferences, and more.
Office Timesheets is a comprehensive web-based employee time tracking and timesheet collection management application that can be configured to meet the unique requirements of practically any organization. With Office Timesheets, time can be collected into a single repository regardless of where your employees and/or contractors are located and synchronized into QuickBooks to perform customer time billing, payroll, and other accounting functions.

While Office Timesheets is simple to install, setup, configure, use and maintain; it's anything but ordinary. Lookout Software has become known around the globe as an innovative developer of sophisticated, yet simple to use software solutions to solve some of the business community's most vexing problems, and Office Timesheets is no exception.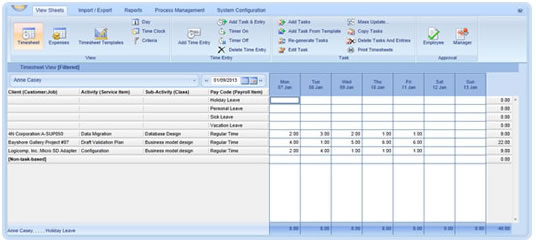 Office Timesheets is indeed a highly sophisticated application using the latest technologies available like AJAX and the Microsoft .NET Framework. However, we've developed the product with the latest and greatest software development architecture, not for technology's sake, but with the single purpose of making Office Timesheets the best time tracking application the market has to offer. In fact, Office Timesheets has been developed with these six (6) goals in mind:
Easy to use, recognizable interface
Affordable pricing for all businesses (large and small)
100% web-based architecture for anywhere, anytime employee access
Totally customizable time tracking terminology, hierarchy and time collection process
Easy and robust reporting for slicing and dicing time tracking data for cost analysis
Simple and effective integration with other applications including QuickBooks and Microsoft Project
You can learn more about how we've accomplished each to these goals throughout our website.
Map your own unique time tracking hierarchy to QuickBooks precisely the way you want
First, we start by letting you setup and define your own unique time tracking elements (commonly referred to as buckets) within Office Timesheets to allow you perform time and cost analysis at any level of detail your organization desires. Office Timesheets' capabilities, with regards to time tracking elements is far more sophisticated, customizable, and extensible than QuickBooks with 10 user definable levels. Thus, you are not restrained by using QuickBooks' limited time tracking element hierarchy and/or terminology. Once you've defined your own unique terminology and time tracking hierarchy for your Office Timesheets installation, you can then map it to how Office Timesheets data will overlay with QuickBooks using the QuickBooks preference settings within Office Timesheets.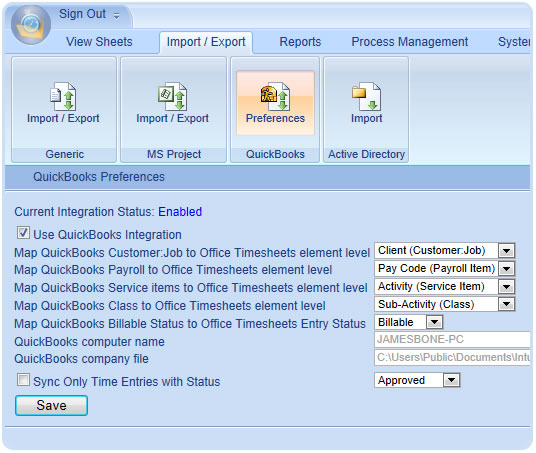 In fact, you can use Office Timesheets to track time against additional time tracking elements not available within QuickBooks, and Office Timesheets will roll up time entries properly into QuickBooks for performing accounting functions.

Office Timesheets allows you to map data directly to all time tracking elements available in QuickBooks, which include:
Employees and Vendors
Customers
Jobs
Service Items
Payroll Items
Once mapping is defined and the synchronization has begun, Office Timesheets will be populated with these items from QuickBooks. All of these items (with the exception of Payroll Items, which can only be modified from within QuickBooks) will remain fully synchronized. Items can be added/edited/deleted from either Office Timesheet or QuickBooks and the Office Timesheet QBLink application will keep both applications fully synchronized. In fact, Office Timesheets QBLink application logs all synchronization transactions between Office Timesheets and QuickBooks.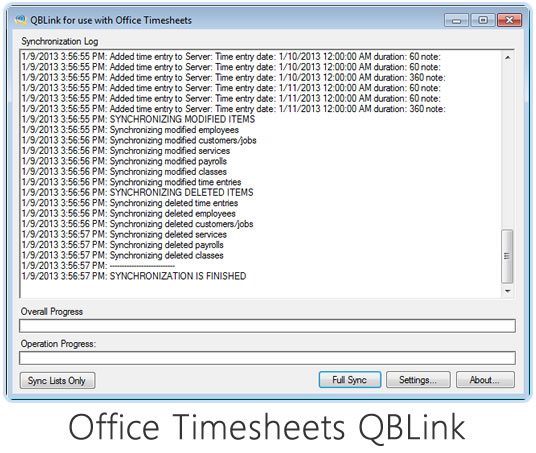 Items stored at other time tracking element levels or buckets you create within Office Timesheets that do not pertain to QuickBooks will be ignored by the QBLink sync. However, even time entries with non-related items will sync to QuickBooks, rolled up to the pertinent items within QuickBooks and transfer to QuickBooks properly.

Time entries always stay in sync between Office Timesheets and QuickBooks
Office Timesheets' QBLink application also keeps time entries between QuickBooks and Office Timesheets fully synchronized. Thus, you can modify an existing time entry record in ether QuickBooks or Office Timesheets and the modification will be updated in both applications.
Why Office Timesheets?
Office Timesheets is a comprehensive employee time and expense tracking application that can be easily configured to meet the specialized needs of practically any business. But what specific advantages would your organization gain by choosing Office Timesheets over QuickBooks and/or other time tracking applications? Here are a few of the advantages Office Timesheets offers over QuickBooks and other time tracking applications:
Customizable Terminology – your business uses its own unique terminology so why should you be forced to use someone else's. Practically, every data tracking field within Office Timesheets can be changed to reflect your business's unique terminology.
Employee Groups – organize employees into groups, departments, teams, etc. and use for grouping, sorting, and more in reports, task assignments, etc.
Element Level Groups – organize item lists into groups and use for grouping, sorting, and more in reports, task assignments, etc.
Customizable Task and Entry Status Fields – for tracking the status of tasks and time entries.
Customizable Approval Process with Timesheet notifications and reminders
Assign tasks to employee timesheets – Office Timesheets allows you to assign tasks to employee's timesheets so that employees always know what tasks they are expected to work on.
Tasks rules – want to enforce what activities (tasks) can be performed for a specified Client or Project; or what Clients can a specified employee work with? Office Timesheets Task Rules allow you to handle these types of scenarios and more with Level Dependencies, Required Levels, and more.
Track time against 10 customizable levels – need to track time against data levels beyond what QuickBooks allows? Office Timesheets goes well beyond the Customer, Job, Service Item, Class, and Payroll Items fields by allowing you to define additional time tracking levels and determine how they fit within your time tracking hierarchy.
Summary and Detail reports for time and cost analysis – the sky is the limit with Office Timesheets reporting. Included within Office Timesheets are both a spreadsheet-style summary report writer and a detail report writer using Microsoft Reporting Services with many pre-defined reports.
Mass Updates of time/expense entry and task statuses – ever need to mark all time entries within time period as "billable" for a specified client? With QuickBooks and other applications this is a time consuming process that has to be done by one entry at a time. However, Office Timesheets can accomplish this task and more within a matter of seconds with its' Mass Update functions.
Employee rate tables – track up to 6 different rate types by effective date with both standard and overtime rate tracking.
Multiple task rates and budgets – track rates for billing, estimating, budgeting, overhead costs, and more at the task level.
Time Entry Rates – apply a unique rate for each individual time entry.
Customizable timesheet reporting periods – what is your timesheet reporting period driven by: payroll, billing or project reporting? Many organizations have the need for something other than the standard weekly reporting period. With Office Timesheets, you can define your own unique reporting periods.
Comprehensive security – define your own security policies and assign them to employees to control what each user can do and see within Office Timesheets.
Audit Trails – are you in a situation where your organization must comply with regulatory agencies and/or special laws like DCAA (Defense Contract Auditing Agency) , SOX (Sarbanes Oxley), or FMLA (Family Medical Leave Act)? Chances are, you are required to have Audit Trails in place. With Office Timesheets, audit trails are easily enabled; and pre-formatted reports will give you the documentation needed if and when regulatory agencies request them.
Custom Import/Export templates – to import data from and export data to other systems
Office Timesheets has a diverse base of customers ranging from small and medium size enterprises (SMEs) to Fortune 500 companies with installations in every major continent throughout the world.
HAVE QUESTIONS? CALL US TOLL FREE 866.425.0800 OR DIRECT AT 214.239.1985