When no one else can automate your professional service time, expense and flat fee billing, we can!
Incredible flexibility in invoice design using our built-in powerful invoice designer or have our professional services team create custom invoice templates to look any way you want
Our unique time, expense and flat fee professional services billing engine lets you create unlimited invoice templates, where each template contains a completely unique design to comply with the special contract arrangements between your organization and its' clients. There's no limit to what can be done with Office Timesheets Time Billing module's unique billing design and template engine. Invoices can display billing data in summary or detail; or even a combination of summary and detail. No matter what your invoice requirements are, we can automate it to save you time, eliminate billing mistakes and maintain a highly professional image to your clients. So stop wasting hours creating the invoices you need in Microsoft Word, eliminate billing mistakes, and completely automate your billing process.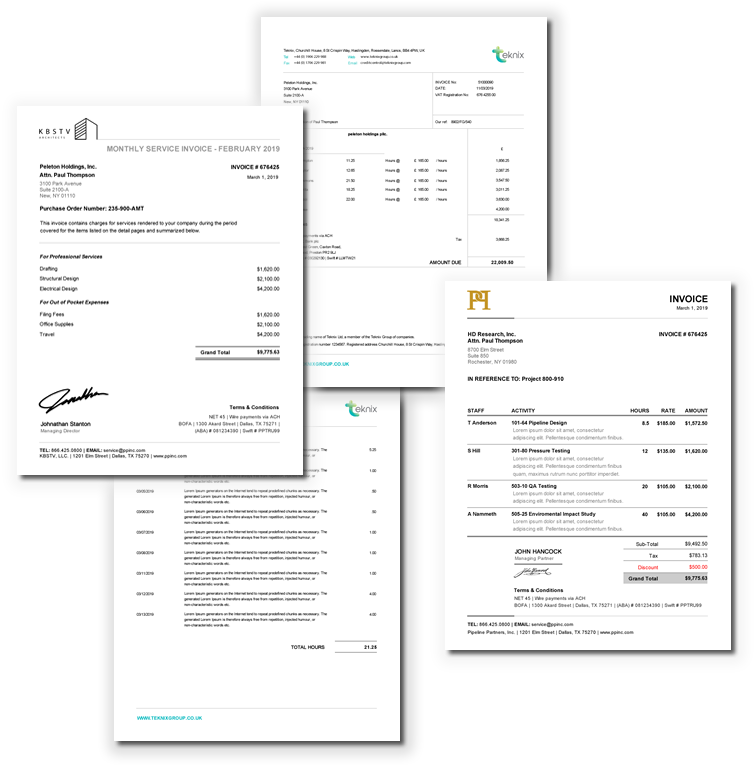 Invoice Design and Creation
Invoice Accounting Isolation at Client, Project and/or Phase levels.
Multiple tax rate setup for both time and expenses.
Custom Payment Terms.
Select any billing currency you want displayed on invoice by client, project and/or phase.
Easily Apply discounts to invoices and choose which billable items to apply the discount.
Create invoice templates in US and/or A4 page formats.
Include customized Cover Sheets for each your invoice templates.
Complete control over design of each invoice template's Header, Body and Footer.
Each invoice template contains a unique logo image.
Custom email templates can accompany each invoice template.
Generate invoices one at a time or invoices in batch.
Select unlimited client contacts in which to email your invoices send by mail.
Billing Rate rate rules to automatically apply the correct rates
Easily set default rates by Employee, Task, Project, Activity and more.
Easily update/modify billing rates by date.
Rate name and rate detail tracking.
Entry level markup and markdown by Percentage or Fixed amount.
Invoice Management and Tracking
Invoice grid with sorting, grouping and filtering by status, dates, Client/Project/Phase and more.
View email history of your invoices.
Show whether or not your invoice has been exported (for import to other systems).
Comprehensive Payments, Adjustments, Refunds, History and Statement Management
Optionally, apply and track payments from our comprehensive payment grid where you can group and/or sort payments by Date, Invoice Number, Client, Project, Phase/Milestone, Method of Payment, Amount and Status.
Apply partial payments.
Include notes for each payment.
Apply, view and track invoice adjustments.
Apply, view and track refunds.
Comprehensive and easy to use historical invoice tracking grid.
Easily view and generate statements in PDF, Excel and Word formats.
Invoice Data Export Templates
Easily create unlimited invoice data exports.
Mapping editor lets you pick specific fields to export along with the field column order.
Export itemized invoice data (time entry/expense entry, tax amounts, discounts, notes, etc.
Summary Reports
Create incredible summary data reports in minutes, and save them in re-usable templates.
View summary data by any element tracking levels.
Time Entries, Expense Entries, Rates, Calculated Rate data, Budget vs. Actual,. etc.
Define up to 100 data and calculated data columns.
Export your summary reports to Excel with click of a button.
Create summary based WIP reports in minutes.
Detail Reports
Detail data reports.
Over 130 pre-made templates.
Invoice Aging, Invoice Tax Reports, Employee Billings by Invoice, Employee Billings by Payment, and more.
Comprehensive filtering by Employees, Employee Groups, Clients, Client Groups, Projects, and more.
Export detail reports to PDF, Excel or Word documents with a single click.
Detail Transaction Reports
Quickly design detailed WIP reports in a highly interactive spreadsheet-style grid.
Group and Sort grid's reporting data by any column.
Place fields in any column order you wish.
Filtering of task, time and expense entry data grid by Employee, Client, Project, Activity and more.
Quickly and easily save reports as reusable templates.
Save your report data to Excel spreadsheet in a single mouse click.
Office Timesheets has a diverse base of customers ranging from small and medium size enterprises (SMEs) to Fortune 500 companies with installations in every major continent throughout the world.
HAVE QUESTIONS? CALL US TOLL FREE 866.425.0800 OR DIRECT AT 214.239.1985