Office Timesheets allows you to import data from practically any application. You can also export data directly from Office Timesheets to be imported into practically any system; or to be analyzed in Microsoft Excel, Access, SQL Server, etc. You can even create Import/Export templates to re-use for periodic updates to line-of-business applications.
The Generic Import/Export engine built within Office Timesheets uses the CSV file format, which is well known in the industry for its simplicity and wide-spread support (supported by almost all spreadsheet applications, database management systems, and database-driven line of business applications).
While the Office Timesheets Generic data Import and Export engine is simple to use, it also contains many powerful options such as:
Date range selection on import or export
Status field "Include" and/or "Set as" options for tasks, time entries, and expense entries
"Replace"/"Use Current" on entry difference
Replace existing tasks (or create new)
Delete data after export (option)
Element level/group selection and/or filtering on export
And more…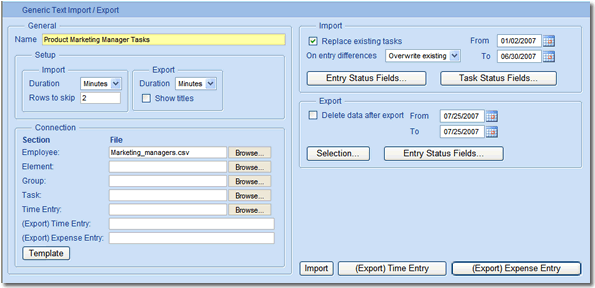 Office Timesheets also includes a separate functions specifically designed for synchronizing data with
Microsoft Project
and
QuickBooks
.
Office Timesheets has a diverse base of customers ranging from small and medium size enterprises (SMEs) to Fortune 500 companies with installations in every major continent throughout the world.
HAVE QUESTIONS? CALL US TOLL FREE 866.425.0800 OR DIRECT AT 214.239.1985