Office Timesheets Mobile
The all new Office Timesheets Mobile web app module enables Office Timesheets employees log into Office Timesheets with an Internet-enabled smartphone device, enter time and expenses, and submit timesheets for manager approval. Office Timesheets Mobile also let's Employee Managers review employee time, and submit and/or approve employee timesheets from a mobile smartphone device as well.
The Office Timesheets Mobile application is designed and optimized for smartphone touchscreens. The application is simple and straightforward so users can enter and submit their time quickly and easily, anytime, anywhere.
The Timesheet View
Office Timesheets Mobile contains an all new timesheet interface that is optimized specifically for more mobile smartphones. Due to screen size constraints, the traditional timesheet grid view would require both horizontal and vertical scrolling. So our team went to drawing board and created and timesheet optimized specifically for handheld devices. The Mobile Timesheet View adapts to both portrait and landscape orientation; and is even suitable for use on tablets.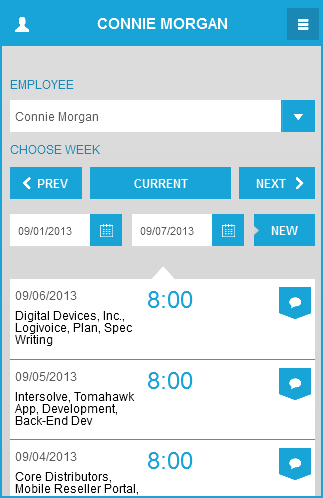 Time Entry Submission for Approval
We've also adapted the employee time approval screen from the primary version of Office Timesheets to mobile interface. So employees can view timesheet periods along with timesheet totals and the timesheet's status. Employee can submit/resubmit timesheets from this screen or directly from the timesheet view.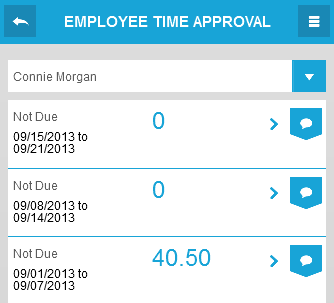 The Expense View
Office Timesheets Mobile gives employees the ability view and enter expenses from their mobile device.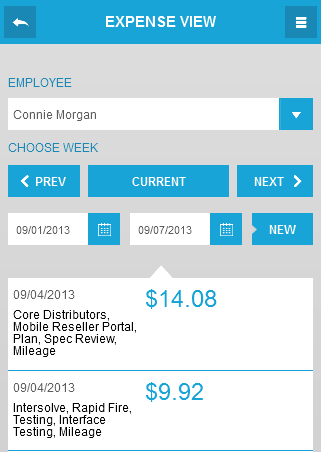 Manager Timesheet Approvals
Office Timesheets Mobile also includes the Manager Time Approval screen. This screen mimics the Manager Approval screen in the standard version of Office Timesheets. Thus, managers can view the status of their employee's timesheets and submit them for the employee (assuming they have rights to do so), and approve/reject them from their mobile device.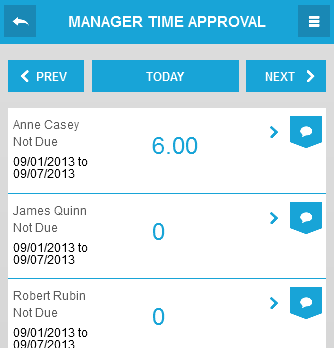 Office Timesheets has a diverse base of customers ranging from small and medium size enterprises (SMEs) to Fortune 500 companies with installations in every major continent throughout the world.
HAVE QUESTIONS? CALL US TOLL FREE 866.425.0800 OR DIRECT AT 214.239.1985