Timesheet - View Sheets
Office Timesheets' View Sheets tab houses the features and functions for collecting and managing time and expense entries. The View Sheets tab contains features and functions for employees to enter time and submit their time and expenses; for managers to process and approve employees' time entries; and for project and financial managers to update/process time and expense entry statuses for reporting, billing and exporting to other applications. As with other tabs, what a particular user can see and do within the View Sheets tab is determined by Office Timesheets' Security Policies. For example, the typical employee may only see those functions needed to enter time and expenses and to submit them to their manager. The Office Timesheets View Sheets tab houses the following features:

Timesheet and expense entry screens.
Timesheet View criteria.
Add, edit, delete and copy timesheet tasks.
Submit employee timesheets for approval.
Manage employee-submitted timesheet for approval.
The View Sheets tab/ribbon with full security access

The Timesheet View from within the View Sheets tab with limited security access (employee-only view)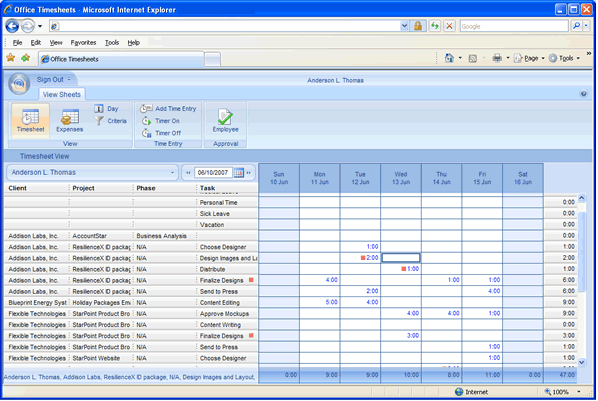 HAVE QUESTIONS? CALL US TOLL FREE 866.425.0800 OR DIRECT AT 214.239.1985